Texas Frightmare Weekend, Dallas, Tx
The largest horror event in the southwest United States, celebrating its 15th successful year
Texas Frightmare Weekend®, after their moderately successful sixth annual show, contracted me to provide T-shirt and poster designs for their seventh. The designs, which included such horror fan-favorite characters as 'Freddy Krueger' from A Nightmare on Elm Street, 'Alex DeLarge' from A Clockwork Orange, and 'Captain Spaulding' from Night of 1000 Corpses proved to be very popular.
The show's operators were thrilled with the results. I was able to work with them on consequent shows with ideas that would help expand their floor traffic and their revenue. Their single-page schedule flyer expanded into an ad-driven full-color collectible magazine, and I was able to expand their merchandise ideas from a simple T-shirt and pillow to an entire range of collectible merchandise including tote bags, patches, enamel pins, decals, posters and more. I was also contracted to provide artwork for magazine display ads, website branding takeovers, and web graphics for social media. I kibitzed on a T-shirt design by acclaimed artist and writer Clive Barker and worked with licensing specifics for a project with Fun World Inc. which owns the Ghostface™ character from the movie Scream.
Texas Frightmare Weekend® has since grown into the largest horror event in the southwest United States and is celebrating its 15th successful year. It has expanded from its original 23,500 square feet to 93,000 square feet of event space and 800 rooms to make room for its growing (and often overflowing) fan base. The event now takes place annually in the Dallas Fort Worth Metroplex and was recently honored as the "Best Convention" by the Dallas Observer.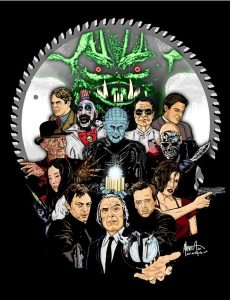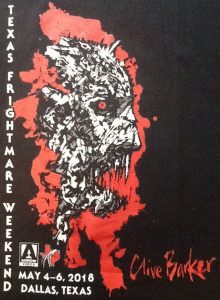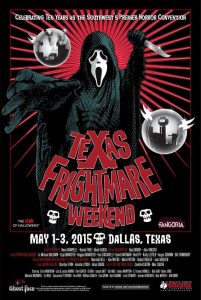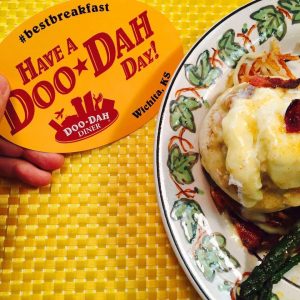 Doo-Dah Diner
I've been working with Timirie and Patrick Shibley since they opened their quirky restaurant in Downtown Wichita back in 2012. Caricatures here, gift certificates there, menus, tumblers t-shirts, magazine ads, you name it. Make sure you try their special brand of Made from Scratch Comfort Food which tops not only local but NATIONAL best-of lists! YUM-MEE!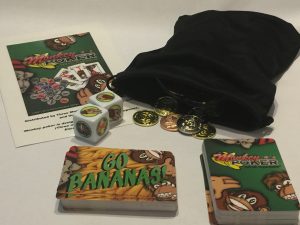 Three Monkey Games
When Wes Smith walked into my office with a home-made children's version of Texas Hold'em based on his three kids, I knew we would be a match! I immediately started doing sketches, and now 10+ years and MANY different card and board games later we're still working together. It's time to peel 'em and deal 'em!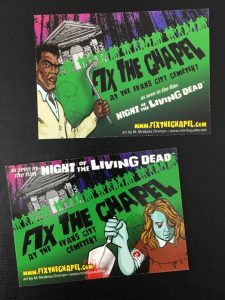 Image Ten
In 2011, Gary Streiner (a producer and the sound designer of the original 1968 horror classic NIGHT OF THE LIVING DEAD) put out the call that the last exterior location from that movie — the chapel building at the Evans City Cemetery — was due to be torn down. I put together posters and trading cards with caricatures of the entire main cast, including one for George Romero's official birthday screening. The Chapel was saved, beginning a working relationship with the producers that continue to this day.