Epicenter
Some background on Mirthquake
Matt has been working as a professional cartoonist and designer since 1986. He's currently the art director for the Texas Frightmare Weekend, the largest horror-themed pop culture gathering in the Southwest. He's provided graphic and web assistance to the Tallgrass and Viscera Film Festivals and regional businesses such as Doo-Dah Diner and KS StateBank. His editorial cartoons, caricatures, and illustrations appeared in the Wichita Eagle, Derby Daily Reporter, WSU Sunflower, and the National Inquisitor. He has also designed display ads for international publications like Fangoria and Rue Morgue.
His graphic design has also contributed to the successful completion of three major motion pictures; Transformers, Iron Man, and Get Smart. His work was ON SCREEN in all three films, and in the case of Get Smart, it graced the Key Art too! He's also one of the few artists granted the license to create artwork based on the classic 1968 film Night of the Living Dead by its original producing group, Image Ten.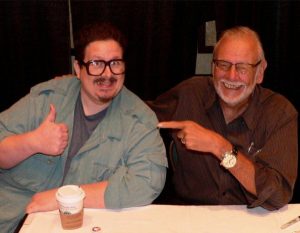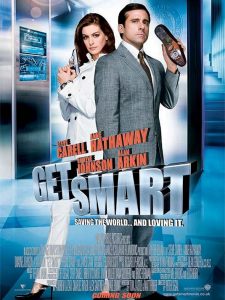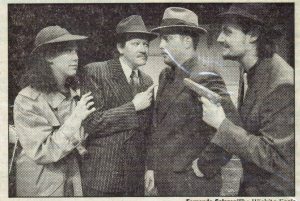 Cracking You Up
Registering 9.8 on the Rictus Scale
With a name like Mirthquake, it has to be good.
Ok, it doesn't have to be good, but Mirthy can be as silly as he needs to be. He is not only known for illustrated cartoons but also wrote or co-wrote several theatrically produced comedies under the pen name M.M. Boatrower, including his LUCKY STRIKES™ Fair Play Mysteries.
Shaking Things Up
Art and Film can be CathARTic
He was also the producing director of CathARTic Art and Film Events, LLC., a philanthropic organization dedicated to facilitating the development of new venues in the arts and film industry; through Experiential Learning, Hands-on Mentoring, and International Access and Deployment of Emerging Talent.
In short, he put on workshops, screenings, forums, and art shows based on film genres such as Horror, Western, Film Noir, and more.